Happy New Year everyone!  It's 2020!!
I hope you had a great New Year's Eve, whether you partied or stayed home for a nice quiet evening. When the kids were younger, we would always have other families over and eat pizza and play games. We always had a great time with lots of good memories! But now, it's just us. So a quiet evening is perfect for us now.
The day before Thanksgiving, I had an accident at work and shattered my index finger on my right hand. So now I am waiting to have surgery. That means I won't be able to blog for a little while. Lauren will still be here and maybe I can convince her to post a bit for me too. 🙂 Anyways, I just wanted you all to know where I will be! I can't wait until I get the surgery over with and be back here with you all! I will try to keep you updated!
Since it's the new year, I know a lot of us are looking for ways to get organized. I know I am! So I found a few ideas around the internet!
This post contains affiliate links and I will be compensated if you make a purchase after clicking on my links.
I think this idea is brilliant for an attic! We have a small attic and I would love to get all the boxes set up like this! There are even printable storage labels.
2. I wish my garage looked like this! I do have most of my stuff on shelves and in totes, but I really like the idea of clear totes so you can see what's inside. Also the large labels are great! Head over to Instagram to see how she did it!
3. My cabinet under the sink isn't this full, but we are thinking of putting in an under the sink pull-out trash can, so I may need to do some reorganizing.  Head over to by lauren m to see what she used to get organized.
4. These bins are a great idea for any cabinet or closet. And the best part is, they come from the Dollar Tree! Check out the other ways to organize from Dollar Tree too!
5. This is a great way to store wrapping paper! Just hang it behind a door or in a closet! You could use the extra slots for storing tissue paper, bows, scissors, tape and other supplies. I'm not sure of the original source for this one, but there are other great ideas on Buzzfeed.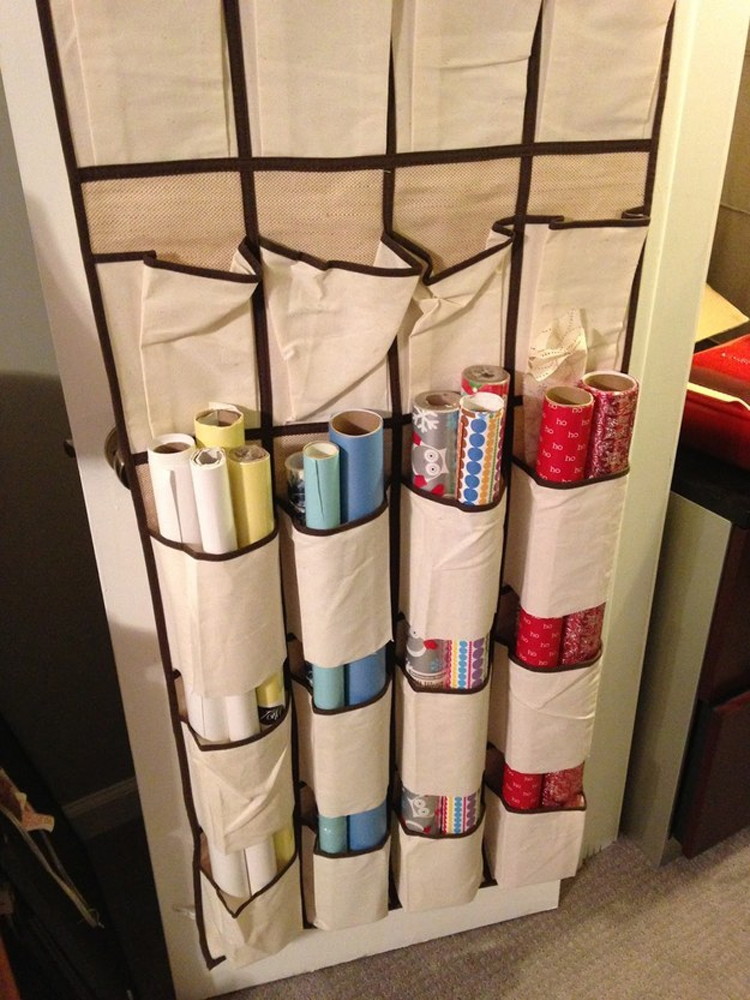 6. Here are more ideas for a shoe organizer. These could be used all over the house! I have one in my hall closet for gloves, hats and scarves. Here is the link for the Barbie Organizer  and the stuffed toy organizer,
7. This is brilliant! Why didn't I think of this! It's so much easier to get games or other boxed items out of this than when they are in a big and tall pile! Visit here for more ideas.
8. Tax time will be here soon, so it's time to get your papers in order. See how Home Made by Carmona set up her files.
9. How are your craft supplies looking? Sometimes, mine are in pretty good shape. Sometimes…not so much. Again, clear containers help to see what you already have and what you need to stock up on.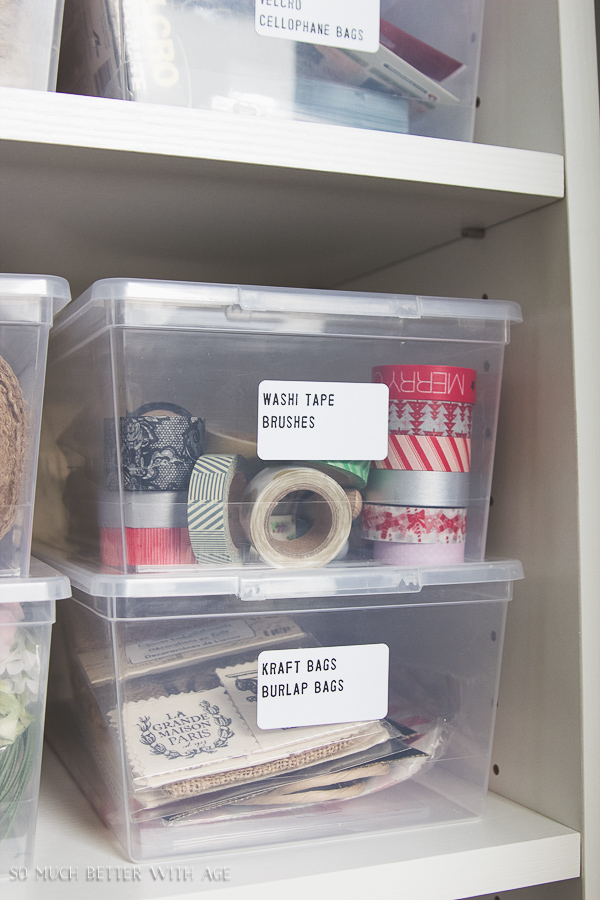 10.  I couldn't forget our pets!  Finding a place to store leashes, clothes, and collars can sometime be a challenge. The Well Groomed Home has some great ideas!
I hope this gives you some inspiration for getting organized this year! Have a wonderful 2020!
This post contains affiliate links and I will be compensated if you make a purchase after clicking on my links. 
Click the photo below to be taken directly to Dollar Tree's website and see what they have to organize your home.